InNorco Premier Listing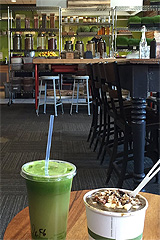 Juice Bars & Smoothies
in the Norco California area.
Local information on juice, smoothies, bar, acai, natural, fresh, squeezed in the Norco, CA area.

This Top of Page Position Is Available!
See your Business in this spot!
To learn about this top position advertising opportunity click here!
Please See Below for General Directory
of Juice Bars & Smoothies
---
Acai Republic
(951) 427-5193
Local Online Guide
2225 Eagle Glen Parkway Map
Suite B104
Corona, CA 92883

Juice It Up
(951) 734-1341
350 N McKinley Street Map
Suite 103
Corona, CA 92879