InNorco Premier Listing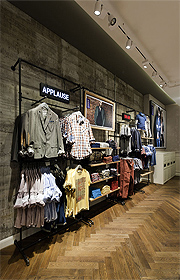 Clothing, Apparel & Accessory Stores
in the Norco California area.
Potential customers visiting this page searched for clothing, apperal, accessory, accessories, shoes, coats, shirts, lingerie in the Norco, CA area.

This Top of Page Position Is Available!
See your Business in this spot!
To learn about this top position advertising opportunity click here!
Please See Below for General Directory of
Clothing, Apparel & Accessory Stores
---
Kohl's Department Store
(951) 493-6607
470 Hidden Valley Parkway Map
Corona, CA 92879

Ross Stores
(951) 278-2788
330 North McKinley Street Map
Corona, CA 92879

Spurs & Bourbon
(951) 254-7788
Norco, DE 92680